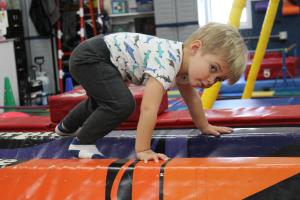 This 28-page eBook and 1 hr. 10 min. video includes 16 weeks of lesson plans for preschool boys, coloring sheets, and handouts. With a male teacher, many parents really want their 3-6-year-old doing more sports-orientated, male gymnastics events in a structured class.
"Patti's stuff is great! I used it for years when I ran a YMCA program. You can adapt themes to boys' classes very well. I have been trying to talk the coordinator of the program I am teaching now to take a look at Tumblebear Connection gym products. They do make the instructor's life easier!!"  Heather Tolford
 
We guarantee proven techniques and profit-building ideas in every product OR your money back within 30 days of purchase.
Customers who purchased this product also purchased