What Makes Us Different?
We guarantee proven techniques and profit-building ideas in every product OR your money back.
Since 1986, trusted by over 4000 gymnastics and dance schools worldwide.
Learn how YOU choose… eBooks, video downloads.
Patti has owned a gymnastics school since 1969 and has been voted #1 Best Gymnastics School 25 years in a row.
You're not just an email to us. Communicate with us by phone, Fb messenger, or email… YOUR choice.
We have a free, bi-weekly eNewsletter filled with educational tips on gymnastics training, marketing, and business ideas.
Choose from over 100 options ranging from year-long gymnastics to dance lesson plans.
Take $50 off each additional year-long lesson plan package.
---
Meet Patti Komara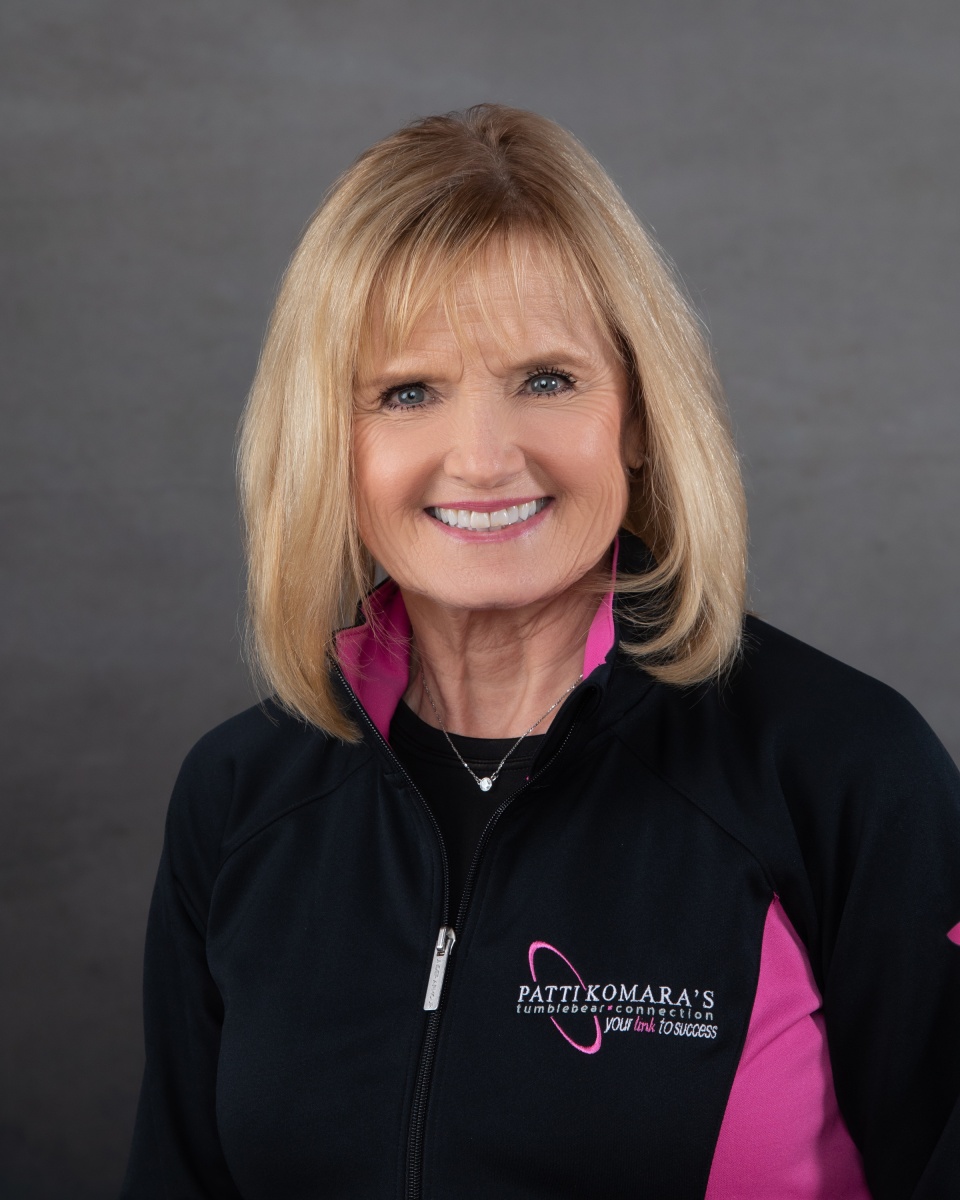 Patti began speaking at national seminars in 1981 on preschool and school-age gymnastics and the business of owning a gymnastics school. Patti has spoken for Purdue University and national seminars for AAHPERD, AAEYC, USAIGC, IDEA, and USA Gymnastics. She started her national seminars in 1986.
In the same year, she also began filming her speeches and founded Patti Komara's Tumblebear Connection. Patti has since produced more than 150 instructional videos for instructors and owners. She sells books on yearly lesson plans for the internationally known Tumblebear Gym Program, School-age Gymnastics, Dancing Gym Bears, Yoga Bears, CheerBears, and Gym-N-Learn Educational Preschool. Patti has also written over 50 business articles published in industry magazines. She also authors a bi-weekly e-blast filled with gymnastics tips to her over 9,000 subscribers as well as providing USA gymnastics with monthly articles and videos for their newsletter.
In 1995 Patti was selected by USA Gymnastics to be a member of the committee that created the Kinder Accreditation Training Program and co-authored the KAT Workbook. In 2003 she was named USA Gymnastics Business Leader of the Year. In 2005 Patti was selected as Client of the Year by Action International and in 2006 was given the National Service Award by USA Gymnastics at their annual business conference. In 2010 she was one of five other gym owners named to the USA Gymnastics Task Force. In 2011 she was one of 14 named to the USA Gymnastics Business Advisory Team. In 2014 Patti was awarded by USA Gymnastics the "Club Owner of the Year" award. In 2016 She was selected to be a member of the Society of Innovators of Northwest Indiana.  Additionally, in 2018 Patti was named "Most Influential Business Woman of the Year" by Northwest Indiana Influential Women Association.  In 2019 Patti celebrated her 50th year in business, was inducted into the USA Gymnastics Region 5 Hall of Fame, and was named Northwest Indiana Small Business Development Center's "Small Business Person of the Year". Also in 2019, she also won for The NW Indiana Influential Women's Small Business Award. In 2020 she was awarded the state of Indiana's Half-Century in Business Award. In 2021, Patti spearheaded the Patti's All-American / Breast Cancer Research Foundation fundraiser and raised over $19,000. Patti and her husband, Bronko, are proud parents of Joe and Kelly and grandparents to Kennedy and Hudson.
---
We guarantee proven techniques and profit-building ideas in every product OR your money back within 30 days of purchase. We ship within 24 hours.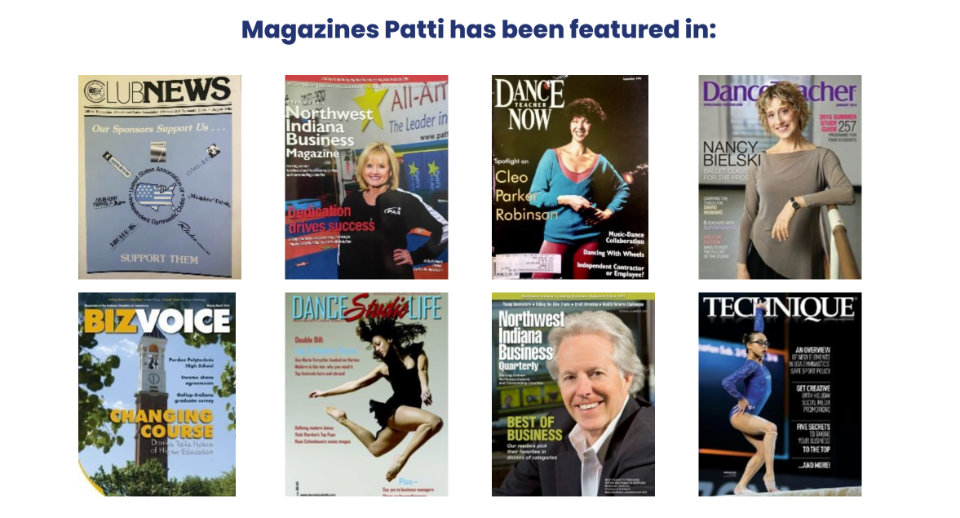 ---

You are appreciated as a leader in gymnastics training. We often refer to your guidelines and thoughts on training our younger athletes. Thank you for your passion.
Dr. Michael Zoldan, D.O., Founder of Digital Health Tech, CEO of TAG USA Elite Gymnastics, and owner of Sports Injury Clinics

This woman is the real McCoy ;-). Her products speak for themselves. They are exciting and creative. Being mentored by Patti is one of my best experiences...EVER!!! Her products help keep children moving. Check them out.
Crystal Relinkski