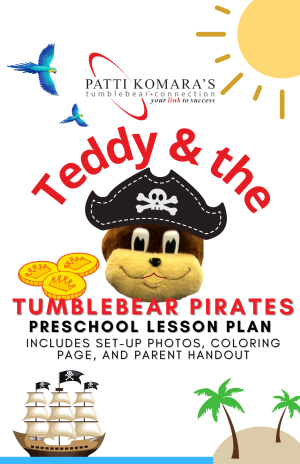 Welcome to "Teddy & The Tumblebear Pirates". We will focus on balance skills and backward rolls. We are all born with flexibility, but no one is born with balance. Walking the plank (balance beam) and jumping on the trampoline and Tumbl Trak will help your little Pirates improve their vestibular balance. Along with our balancing skills, we will also be visiting "Cartwheel Cove", and continue progressing our cartwheel skills. At "Fearsome Falls" we will do drills to help with our back-hip pullover on bars. Arrrrrrrr!!!!! Muscle focus: Abductors. Includes:
Lesson plan

Photos

Parent handout

Coloring sheet
Available as a single lesson plan.
This lesson plan is also available in #201.2 - Tumblebear Gym Year-Long Preschool Lesson Plan Book 2nd Edition. 
Customers who purchased this product also purchased