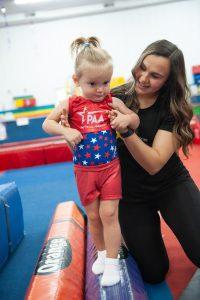 This fun-filled 153-page eBook contains a full year of lesson plans featuring floor set-up photos and video snippets from each lesson. This is Patti's jewel!  (2 hrs. 30 min. on two videos & 150-page eBook) A copy of editable lesson plans is included so you can edit the lesson plans to fit the needs of your gym.  It is still progressive in nature and is based on skill themes such as Squat (all the F & B Rolls and tucking at all events), Straddle (F & B Straddle Rolls and straddling at all events), Lunge (Cartwheels), etc. Continuing that process we have lessons for Pike (with all the movements done in pike) and Ta-da, where we focus on dismounts and landings at all events.  SCROLL ALL THE WAY DOWN TO WATCH A SAMPLE VIDEO CLIP. 
The lessons included in this package:
-Safety
-ABCs of Cartwheels
-Animal Action 2x2
-Parents' Spotting Week
-Mounts and Dismounts
-Landings
-Nutrition
-Superbowl Fun
-Winter Wonderland
-Hooray for Handstands
-Nursery Rhymes
-Under the Big Top
-Wild Weather
-Aliens in Outer Space 
-Combinations
-All American Sports 
-Muscle Beach Party
-Mouse Mania
-Review with a smile

Click on the "Sample Lesson Plans, Handouts, and Free Articles" link on the left to view a preschool lesson plan.
We guarantee proven techniques and profit-building ideas in every product OR your money back within 30 days of purchase.
Customers who purchased this product also purchased