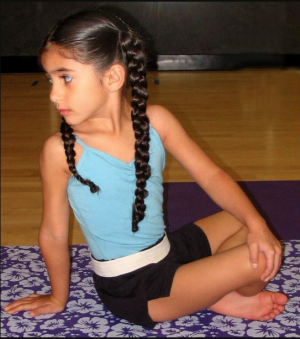 (1 hr. video & 76-page eBook) An easy-to-adopt program for 4-6-year-old children that brings in extra income for your gym. Any dance or gym teacher can do these scaled-down poses that promote body awareness, relaxation, and strength. This 76-page book and video package includes themes, curriculum, attire info, props and equipment list suggestions, music suggestions, and 5 yoga position wooden handstamps. Click on the "Sample Lesson Plans, Handouts, and Free Articles" link on the left to view a "Sample Lesson Plan". The yoga handstamps will be mailed separately. S&H  charges will apply. 
The lessons included in this package:
-Beautiful Butterflies
-Bugs! Bugs! Bugs!
-Cat's Meow
-Dogs
-Turtles
-Lucky Rabbits
-Roaring Lion
-Review 
-Parents Participation 
-Owl 
-Pigeons
-Camels
-Funky Monkey 
-Cobra
-Flamingo
-Eagle
-Cows
-Locust 
-Crows
-Scary Bats
-Crocodile
-Graduation 
We guarantee proven techniques and profit-building ideas in every product OR your money back within 30 days of purchase.
Customers who purchased this product also purchased