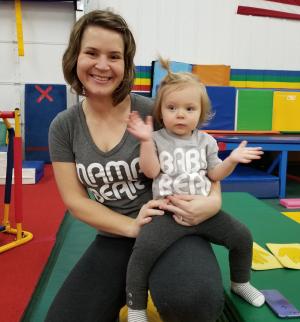 With this 2-hour video and 86-page eBook you can train brand new teachers and re-energize your present staff. These classes with high student-to-teacher ratios are the most important program in your gym because they are the most profitable! Please scroll down to watch a short clip from this video.
 Topics discussed are:
Naming your program and sample class names

The importance of this program to the success of your gym

Marketing and advertising ideas and successful sample ads 

Who are your customers?

How to sell it to dad 

The reading readiness component in this program 

Getting the parents to be a successful part of the class 

Scheduling for success 

Picking the right people as teachers 

Developmentally appropriate curriculum

Educating the parents on the logic behind the classes 

What to do with the child who cries, hits, is shy, etc. 

Motor development terms and why knowing them are so important

Unique spotting for tots 

Sample lesson plans 

Successful cross mat tumbling with 2 & 3-year-olds 

20 new ideas that I learned from my trip to a gym in Switzerland 

Photos of proper spotting and danger areas in class 

Brand new Parent and Tot progression sheets





**Plus ideas from teachers like you from across the country on what makes their classes successful!
We guarantee proven techniques and profit-building ideas in every product OR your money back within 30 days of purchase.
Customers who purchased this product also purchased