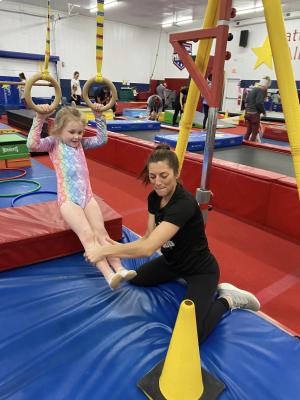 This all-encompassing, best-selling training system for preschool/beginner tumbling, bars, beam, trampoline, and Tumbl Trak is exactly what you need to help train your preschool and beginner gymnastics teachers. Perfect for training your NEW teachers. This best-selling product includes :
-Four one-hour videos/digital downloads
-Patti teaches over 284 skills by explaining the prerequisites, teaching steps, teaching tips, stations, spotting, common errors, variations, and combinations for tumbling, bars, beam, trampoline, and Tumbl Trak.
-86 pages of notes, tests, and answer keys for each event (can you pass the tests?)
A certificate suitable for hanging in your gym. Parents need to know their teachers are trained properly, so display their credentials.
*Start today and offer your staff the best training system in the industry from one of the leaders in preschool gymnastics! Please scroll down to watch a short clip from this video. Click on the link below to purchase today.
We guarantee proven techniques and profit-building ideas in every product OR your money back within 30 days of purchase.
Customers who purchased this product also purchased