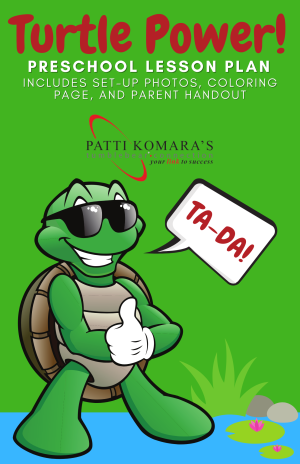 We are calling our Turtle friends to help us with hollow body and to fight the crime of BENT LEGS in gymnastics. We asked the turtles to help us with hollow body because, in the hollow shape, your back is rounded LIKE A TURTLE SHELL! The hollow body is the key component for future skills your children will be learning such as handstands and round-offs. For the cognitive development portion of the lesson, we will be identifying and matching colors. Muscle focus: Quads. 
Includes:
Detailed lesson plan (

includes complete set-ups for bars, beam, floor, trampoline, and Tumbl Trak. Plus suggested skill goals, parent & tot time, music suggestions, beginning and ending activities, muscle of the month, and plenty of explanations!) 

Photos

Parent handout

Coloring sheet
Available as a single lesson plan.  
This lesson plan is also available in #201.2 - Tumblebear Gym Year-Long Preschool Lesson Plan Book 2nd Edition.
Customers who purchased this product also purchased