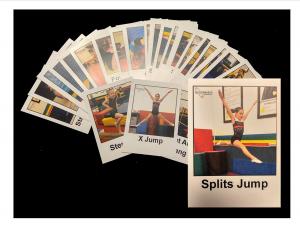 Included with this photo skill card set are: preschool students demonstrating positions, tumbling moves, as well as skills for bars, beam, and trampoline. It also includes 20 helpful hints and ideas for using these skill cards. This set of 49 photos is a digital download. All you have to do is print them. These cards are the perfect teaching tool for preschool classes. As you walk around and explain stations, tape the photo skill card to that station. Now kids can look at the photo skill card and are easily reminded of what to do at that station. It's a total lifesaver for parent and tot classes. Additionally, they can be used for beginning and ending activities, games, and camps. Don't pass up this must-have product for your students. 
"We love our laminated skill cards for a host of reasons!  They are handy reminders for our preschoolers (and parents/caregivers in grown-up and me classes) what they are to do at each station.  For our older preschoolers, letting them choose between two cards at a station gives them the feeling of independence.  The cards are really durable and we added Velcro to the back to stick them to carpet bonded foam. They work great!"  Anne Josephson, JAG Gym, Culver City, CA
"Skill cards are a great teaching tool. So many kids are visual learners and love to imitate what they see. Teachers can really utilize them for station work and small circuits, too. They are also so helpful for parent and tot classes. Parents can really make it a teachable moment if the child wanders to another area and there is a skill card posted."  Preschool Gymnastics Teacher for 27 years, Diane Spevacek 

USA Gymnastics' National Instructor Rhonda Zaluckyj said, "The Tumblebear Skill Cards are so helpful when teaching class. Not only do they help guide children to show what to do, but it also shows what the skill should look like. My philosophy in life is "work smarter, not harder" and that is exactly what these cards allow me to do!"
We guarantee proven techniques and profit-building ideas in every product OR your money back within 30 days of purchase. We ship within 24 hours.  
Customers who purchased this product also purchased