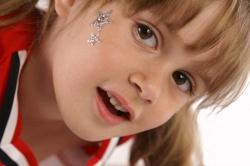 This 88-page lesson plan eBook and 40 min. video contains preschool cheerleading lesson plans (ages 4-6) for one year, coloring pages, handouts, and a chapter on how to market this program using fliers, schedules, ads, and postcards. Editable lesson plans are also included. A video of a sample class is included. 
The lessons included in this package:
-Intro and Fun 
-Strong Motions 
-Jump Intro
-Review
-Pom-Poms
-Splits
-Film the Class 
-Parent Watch Week
-Create a Cheer
-Show Us Your Cheer
-Cheer Spirit
-Smile
-Mini Stunts
-Group Stunts
-Review and Parent's Film 
Hi, Just wanted to let you know I received our cheerbear program in the mail yesterday and started going through the program with our coach last night, (she is one of our senior cheerleaders, who is crossing over into coaching.) The program is fantastic, I am so happy with it, it fits really well with our current recreational gymnastic classes and is so easy for her to understand and follow. Thank you so much, we love it. Jessie Sellar, Head Coach at L'elfin Gymnastics
We guarantee proven techniques and profit-building ideas in every product OR your money back within 30 days of purchase.
Customers who purchased this product also purchased